A natural shampoo or organic shampoo is gentler and nourishing for your hair as opposed to a commercial shampoo containing harsh chemicals. Especially if you are experiencing any hair and scalp issues such as slow hair growth, dry hair, dandruff, itchy scalp, damaged hair, sensitive scalp, dry scalp, oily hair, oily scalp, etc. So now that you have decided to switch your conventional shampoo to a natural shampoo what natural shampoo ingredients to look for when finding the right shampoo for your healthy hair journey? Don't worry we got you, sis! or bro! We don't discriminate here. It is a safe space to begin your natural hair growth journey.
It is important to understand the purpose of shampoo. You must be thinking duh! It is to clean the hair. Absolutely! your shampoo should contain natural ingredients that have cleansing properties without stripping off the protective layer of natural oils that protect your scalp and hair. Also, it is important to use a ph balanced shampoo especially if you wash your hair on a daily basis. Mother nature has provided us with all the necessary natural ingredients to cleanse, condition, and strengthen our hair. And no, we are not asking you to go pick out these ingredients from the farms and forests, to make your own homemade shampoo, well you could do if you have the time and knowledge, but realistically, in today's busy lifestyle it is a bit time-consuming to make your own shampoo recipe. But what you can do is READ THE INGREDIENTS before buying the shampoos and spot the ingredients that are nourishing for your hair with the convenience of a ready-made store-bought, conventional shampoo.
But before listing these shampoo ingredients it is important to understand that these ingredients can be divided into three properties: –
First of all, cleansing, which is obviously the main purpose of shampoo. Just like surfactants used in a conventional shampoo, saponin is a natural surfactant, a cleansing agent with foaming properties found in more than 100 families of plants! (intechopen.com) Now before you get excited and start stocking the saponin-rich plants and herbs in your pantry, it is important to understand that not all plants containing saponin can be used by a layman without understanding its properties. Everyone reacts differently to different plants and herbs. Home-made shampoo in the form of a natural shampoo bar or powdered hair cleanser or a DIY liquid shampoo made with castile soap or apple cider vinegar or baking soda are some popular shampoo recipes in the natural hair community and if it works for you then great but it might not work for everyone. Without correct formulation knowledge you might be causing more damage to your hair and scalp therefore, it is better to go for hair products that have been tested for safe use.
The second property is conditioning. We can all agree that dry hair isn't a good look, especially for curly hair or textured hair guys and gals. It is a sign that your hair is not retaining moisture and if untreated can lead to split ends, breakage, frizz, and slow hair growth. So, it is important to keep your hair moisturized and conditioned. A lot of plants and herbs contain conditioning properties that can deeply penetrate through the hair shaft providing hydration as well helping retain the moisture and length.
Finally, strengthening. If you suffer from damaged hair or thin, fray hair prone to breakage, it is so important to look for the natural organic ingredients that will strengthen your hair shaft from within. Especially, if you have porous or colour-treated hair. There are so many amazing natural organic ingredients that can strengthen your hair by filling in the gaps in your hair shaft. Without further ado let's unveil these amazing natural ingredients.
So, what are these natural Shampoo ingredients?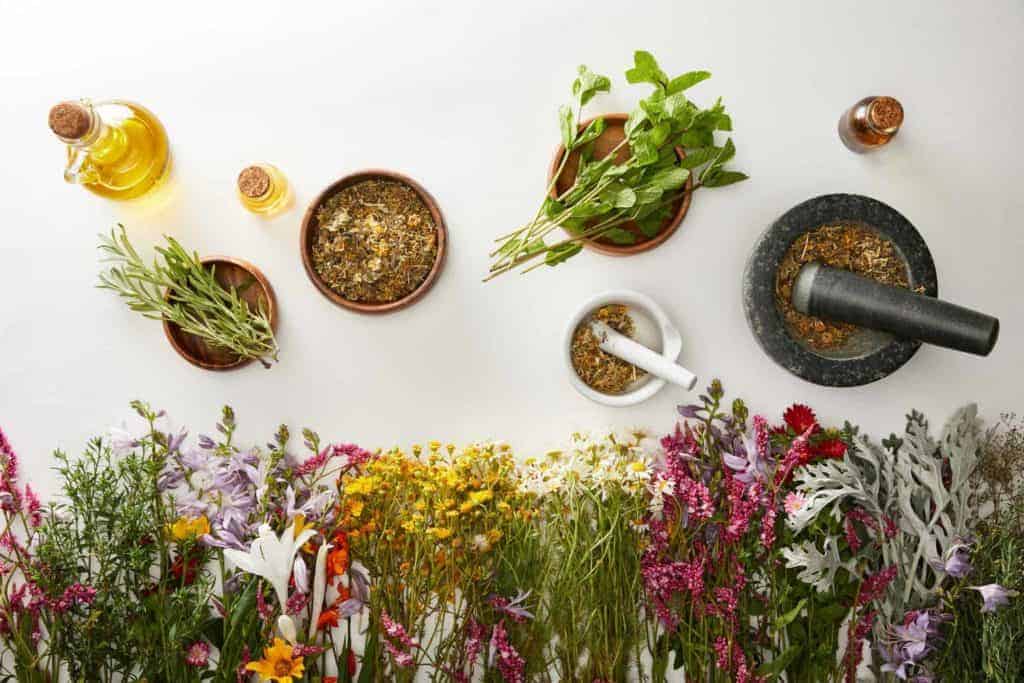 Soapnuts
Soapnuts are one of the best natural shampoo ingredients, used for their cleansing properties. Soapnut trees are known to be one of the richest plants in saponins, which gives soapnuts a foamy texture when mixed with water. (lovelygreens.com) Soapnuts are an excellent cleansing agent, especially if you have dry hair or dry scalp as they can lift the dirt off your scalp and hair without stripping off the essential oil. Soapnuts are antibacterial, antimicrobial, and antifungal which aids in scalp infections, in fact, soapnuts have been used to treat dandruff, eczema, psoriasis, itchy and sensitive skin as well as removing lice. (nirogstreet.com)
Commonly known as – Soapnuts, Soapberries, Areetha, Reetha
Botanical name – Sapindus mukorossi
Uses – Cleansing and Conditioning
Amla
For centuries, amla has been used as a staple to achieve healthy hair in Indian households. Amla oil is known as a hair tonic as it is loaded with vitamins C, A, and E along with Iron, tannins, phosphorus, calcium, and antioxidants. The high nutritional properties of amla contribute to promoting healthy hair growth and help in many hair and scalp issues including dandruff, dry scalp, scalp irritation, and infections. Amla has gained wide popularity in the natural hair community as a hair strengthener and conditioner. Amla is being used in an array of hair products including treatment shampoos like dandruff shampoo, hair masks, hair conditioners, etc. Studies show that topical application of amla can stimulate hair growth especially, in people experiencing hair loss. (healthline.com) Amla is rich in phytonutrients, vitamins, and minerals, which promote hair shine, strengthens the hair follicles, and support the moisture in the hair. (byrdie.com) It is known to provide hydration to dry and damaged hair as it can deeply penetrate into the hair follicles. It restores the natural shine of the hair as it creates a protective layer on the hair cuticles. Amla is also known to keep the greys at bay as the antioxidants help in the production of melanin.
Commonly known as – Amla, Indian Gooseberry
Botanical name – Phyllanthus emblica
Uses – Strengthening and Conditioning
Shikakai
Shikakai is another natural surfactant used in many hair care products. Shikakai is mainly used for its conditioning properties. Shikakaki literally means 'fruit for the hair'. Shikakai is rich in vitamins A, C, K, and D along with an abundance of antioxidants and micronutrients essential for healthy hair. Due to the presence of high vitamin c and antioxidants, just like amla, shikakai can boost collagen production in the scalp as well as prevents free radical damage that can help in the prevention of premature greys. (netmeds.com) Shikakai also contains antibacterial and antifungal properties that protect the scalp from dandruff and other scalp conditions. Moreover, shikakai makes the perfect ph balanced shampoo for your scalp as its ph level is between 4.5 – 5.5, which is optimal for your scalp.
Shikakai is another popular homemade shampoo ingredient, widely used in the DIY natural hair care community. However, shikakai must be handled with caution, as it can irritate your eyes and nose if used in powder form. This is because the powdered shikakai particles are quite sharp and consequently can severely irritate your eyes and nose.
Commonly known as – Shikakai, Soap pods, Shikakai pods
Botanical name – Acacia concinna
Uses- Cleansing and Conditioning
Aloe Vera
Aloe vera is widely popular for its cooling, hydrating and moisturizing properties. It is an excellent pre-poo treatment, especially for curly hair as it helps in detangling the kinks out of your hair. But did you know that aloe vera not only acts as a natural conditioner but also strengthens your hair? Aloe vera is rich in antioxidants, fatty acids, amino acids, vitamins A, B, C, E, B12, minerals, calcium, chromium, copper, selenium, magnesium, manganese, potassium, sodium, and zinc. The nutrients in aloe widely help in strengthening the hair follicles while keeping them soft, shiny, and manageable. Aloe vera has also been found to offer protection from ultraviolet (UV) radiation (webmd.com) Due to its growing popularity, many hair product companies have incorporated aloe in their shampoo brand or conditioner. If you suffer from scalp conditions such as the sensitive scalp, itchy scalp, dry scalp, or even oily scalp, we highly recommend opting for hair products that contain a high percentage of aloe in them as aloe vera is extremely soothing due to its anti-inflammatory properties. Aloe vera also controls excess oil production as it contains enzymes that can break down the fats in the sebum. ​(webmd.com)
Commonly known as – Aloe Vera, Aloe
Botanical name – Aloe barbadensis miller
Uses – Conditioning and Strengthening
Brahmi
Brahmi is known as the 'herb of grace' due to its medicinal and soothing properties. Brahmi is rich in antioxidants which makes it highly anti-inflammatory and extremely helpful in treating inflammation. Brahmi has been used in ayurvedic medicine to treat various inflammatory issues such as eczema, dermatitis, psoriasis, etc. Brahmi is also used to treat temporary baldness due to its biochemical compounds. The antioxidants in Brahmi promote rejuvenating of the scalp which essentially promotes hair regeneration and nourishes the hair follicle to become stronger and lustrous. (tuyabeauty.com) Moreover, Brahmi helps in promoting melanin that can help in preventing premature greying.
Commonly known as – Brahmi, Water hyssop, Waterhyssop
Botanical name – Bacopa monniera
Uses – Hair Growth
Bhringraj
Bhringraj also known as the 'Ruler of the hair' is another powerful herb that can transform your hair health. Bhringraj is also one of the best natural shampoo ingredients that will help you enhance your hair growth. If you could incorporate one natural ingredient in your hair care journey, we encourage you to use a hair product that contains bhringraj. Bhringraj is rich in all the essential nutrients required for hair growth, such as vitamins D, E, iron, calcium, magnesium, alkaloids, and proteins. Bhringraj is highly effective in hair loss treatment as it encourages blood flow in the scalp. It also has antifungal, antimicrobial properties that help in fighting dandruff.
Commonly known as – Bhringraj, False Daisy
Botanical name – Eclipta prostrata
Uses – Hair Growth
Neem
Neem is excellent at fighting scalp infections and removing lice due to its antifungal, antibacterial, and antimicrobial properties. Neem is rich in fatty acids, limonoids, vitamin E, triglycerides, antioxidants, and calcium. If you deal with scalp acne or oily scalp neem is highly effective as it helps in controlling access sebum production. Neem is quite drying in nature so if you suffer from dry scalp then maybe it is best to opt-out of a hair product containing neem. It also contains high fatty acid content which is highly beneficial for a healthy scalp which consequently will hair growth and hair health.
Commonly known as – Neem, Indian lilac
Botanical name – Azadirachta indica
Uses – Cleansing and Hair growth
Henna
Henna is another cooling herb that has been used in various cultures for centuries, predominantly to dye hair naturally. However, it is a lesser-known fact that henna is quite strengthening for hair. Henna works as a protein treatment as it deposits on the cracks of your damaged hair follicle, giving your hair strands a thicker appearance.
Commonly known as – Henna, Mehndi
Botanical name – Lawsonia inermis
Uses – Strengthening
Fenugreek
Fenugreek is rich in vitamins A, K & C, folic acid, potassium, calcium, iron, and protein. These are the key nutrients essential for hair growth. The proteins and nicotinic acid in fenugreek help in promoting strong hair whereas lecithin, a slippery substance produced by fenugreek seeds boots natural shine in the hair. (https://pharmeasy.in) If fenugreek is one of your shampoo ingredients, then you do not need a dandruff shampoo as fenugreek will take care of any dandruff on your scalp. Fenugreek also soothes any inflammation in your scalp that promotes scalp health as well as healthy hair growth. (byrdie.com)
Commonly known as – Fenugreek, Methi
Botanical name – Trigonella foenum-graecum
Uses – Hair Growth and Conditioning
Hibiscus
Hibiscus is another natural ingredient that is used in various hair products as it contains an array of essential nutrients for healthy hair from root to end. Hibiscus contains vitamin C, flavonoids, amino acids, mucilage fiber, moisture content, and antioxidants. It can boost your hair growth by strengthening your hair from the roots as the flavonoids boost the blood circulation in the scalp whereas the amino acids activate the keratin production in the hair follicles. Keratin is the building block of the hair so if you suffer from fragile hair, opt for shampoo and other hair products containing hibiscus. Hibiscus also protects your hair from external damage like harsh UVB rays from the sun. Hibiscus is an excellent conditioner for your hair as it seals the moisture in your hair shaft due to the mucilage fiber, which makes it extremely helpful in the treatment of dry and frizzy hair. Moreover, hibiscus can also prevent dandruff and its reoccurrence due to its microbial properties. (vedix.com)
Commonly known as – Hibiscus, Chinese hibiscus
Botanical name – Hibiscus rosa-sinensis
Uses – Conditioning and Strengthening
Rosemary
Rosemary is a widely used herb in many conventional shampoos and conditioners. Rosemary is excellent to stimulate hair growth as it promotes blood circulation and helps in treating balding and hair loss. A U.S. based research established that rosemary oil is as effective as minoxidil, a medicine specifically used for hair loss issues. (healthshots.com) It is found that topical application of rosemary essential oil increases new hair growth by 22% (intrepidmentalhealth.com). Furthermore, rosemary has antifungal and decongestant properties, which keeps scalp infections and dandruff at bay.
Commonly known as – Rosemary
Botanical name – Salvia Rosmarinus
Uses – Hair Growth
​
Take away
These are quite effective and easily accessible ingredients in the natural shampoo industry; however, this is a non-exhaustive list of the natural ingredients found in mother nature. Different regions all around the world have an abundance of plants and herbs that are provided to us to care for our hair and skin. There are a lot of plants with saponins found all over the world, that are known for their cleansing properties. There are so many natural shampoos that contain oils like almond oil, argan oil, coconut oil, tea tree oil, jojoba oil, olive oil, lavender essential oil for soothing our scalp and moisturizing the hair. Ingredients such as coconut milk, shea butter, mango butter are extremely helpful in taking care of natural hair. What matters is to opt for a shampoo that is made of natural ingredients and is free of harsh chemicals. And also, focus on your diet as well. You can apply the best natural ingredients topically, but you will see better results if you consume a healthy diet and lead a healthy stress-free lifestyle.
​